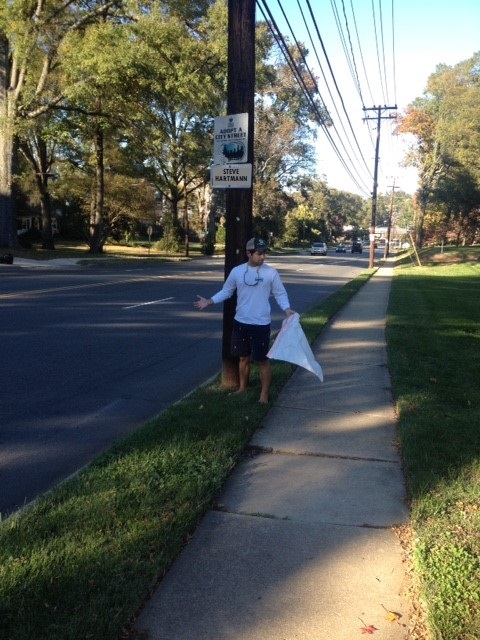 BY NORM D. GUERRE         OCT. 27, 2014
CHARLOTTE – Dilworth neighborhood resident Steve Hartmann expressed extreme disappointment Sunday morning at the complete lack of litter on Park Road, a street he adopted through the city last year. Hartmann had just finished combing his street for trash for two hours. He stood dejectedly on the sidewalk with an empty trash bag, having failed to find even a cigarette butt.
"I spent two damn hours trying to find something to pick up," he reported. "That's two hours of my life trying to make a difference in this mani-f**king-cured community. And you know what? On my road there was nothing. Nada. Not a single piece of trash," he continued ranting. "How in the world is this neighborhood so pristine? Look at how many cars are going by," he stated, gesturing at the numerous cars zipping down Park Road. "How does no one think to throw even a Burger King wrapper out the window? Do they think I'm out here for my health?"
Hartmann has attempted numerous times to find litter on Park Road to no avail. "Can I take that bottle for you?" he asked a jogger carrying Deer Park water. "You won't want to carry that the whole way home!" he called while she unfastened her mace spray as she ran faster. "I tell you, I've even tried to pick out some yard clippings from Avondale Presby's yard but their lawn man chased me off with a hose."
Hartmann expressed his frustration with the cleanliness of his neighborhood. "Screw this," he said as he kicked at a tuft of lush grass beside the road. "I might as well move to NODA or maybe Plaza Midwood. They've always got trash to pick up there."
Inside sources with the City of Charlotte Neighborhood and Business Services confirmed Monday that Hartmann was "one of the best" at "keeping Charlotte pristine." Co-chairs Scott Adams and Camille Cunningham of the KCB (Keep Charlotte Beautiful) Board have also been looking into some sort of recognition for his efforts. In an interview with Ungrammered, Adams related that it was possible that "[Hartmann] might be getting a bigger, fancier adopt-a-street sign, or perhaps we could expand his jurisdiction into Myers Park."
At press time Hartmann was considering hanging it up for the day and going to try out Bakersfield, the new restaurant on the corner of East and Kenilworth before it goes out of business in the next few months.