By CRAIG MILLAR & NORM D. GUERRE        OCT. 20, 2014
RALEIGH, NC — Police were called to the Players' Retreat on Oberlin Road over the weekend as a plate of nachos insisted on driving its Toyota Tacoma to its house, which was "only two blocksh 'way," according to the nachos.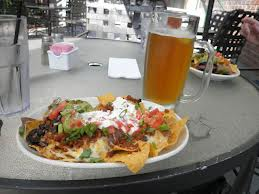 "I hate to do that to a paying customer, even a plate of nachos, but I had to take the car keys," said veteran barmaid Cee Sidler. "I mean, those nachos were loaded."
The nachos seemed depressed by the Panthers' lackluster performance on Sunday, said several eyewitnesses. "The nachos wouldn't stop ordering Scotch," said veteran customer Larry Jinnard. "You gotta know your limits. It was like it wanted to try every single-malt Scotch on the menu," he said. "Believe me, even I haven't gotten through that list."
Police released the nachos to walk home to its Cameron Park triplex rental, hanging on the arm of "my new besht friend," a really baked potato.