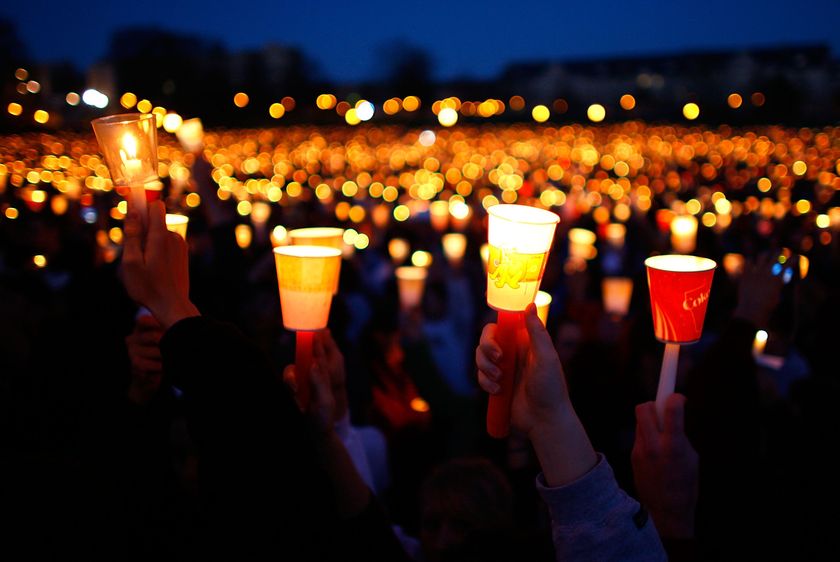 By CRAIG MILLAR                                             JUN 18, 2015
RALEIGH—Hundreds of mourners gathered in pastoral Green Park, an expansive lawn running north to south in Cameron Park, on Saturday to grieve the passing of one of the neighborhood's longest-lived residents.
An oak tree on East Park Drive was cut down, but only after near-heroic measures were deployed to save it. Even in a neighborhood known for never, ever cutting down any tree come hell or high water, the love shown to the venerable oak by the Haywood family was remarkable.
Extensively pruning the tree, fertilizing it weekly, and moving a retaining wall ten feet to the south to accommodate the tree's expanding root system were expensive propositions but well worth it, according to Smedes Haywood IV, the property and tree owner.
"We cashed in our kids' 529s and our 401(k)s," he said, pouring out some Musigny Grand Cru from a bottle on the sidewalk where the tree was felled. "Even though it meant Blythe's mother had to move from Whitaker Glen to that god-awful Raleigh Rehab on Wade Avenue, I think it was worth it. We all made sacrifices."
"My husband quit his job so he could look after Delano," said Blythe Blount Haywood, referring to the affectionate moniker the couple gave the tree. "He spent hours every day making sure the tree was comfortable, even making sure the kids didn't play anywhere near it. They understood," she said, wiping a tear away and squinting at the sunlight that now pours into their kitchen.
After a new branch invaded their home through the master bedroom window, the Haywoods moved their bed into the dining room and went upstairs daily to mist the tree's tender new growth.
After the roots pushed in an exterior wall of the house and damaged the home's foundation, however, the couple began thinking that they might need to "make arrangements." It was only after a hawk living in the tree attacked their daughter's head that they decided drastic measures had to be taken.
"We sent Elizabeth Grace to Westover School in Connecticut," said Blythe. "Problem solved."
When the decision was finally made that the tree had to be taken down, social media in Cameron Park lit up like a roofer on payday. The listserv contained both condolences and accusations, and Twitter messages included the hashtags #SorryForYourLoss and #NeverAgain. Less positive messages included #TreeLivesMatter and #FUMurderer.
In the end, it was the branch that crushed Smedes Haywood's 1975 TR6 that decided the tree's fate. "We hurt the ones we love," he said. "And that f**king tree hurt me bad."