By JAMES A. WALKER, Int'l News Bureau Chief JUN 7, 2015
RALEIGH—Well, la dee da. Drew Elliot, the chief spokesman for the state's environmental regulatory agency, resigned last month apparently so he can take food out of the mouths of Ungrammared Worldwide LLC's employees' children.
He's running a state political news website, which sounds awfully familiar.
Calling it Jones + Blount (Jones for the street the oyster bar is on, and Blount for the nearby street where Tir Na Nog resides), the start-up so far looks like other political blogs commenting on the scene in North Carolina, except its owners apparently hired "professional" people to give it a "polished" and "sophisticated" look, and does not rely on photoshopped pictures done after the owners graphics department gets home from Crafty Beer at 2am.
The current edition – which you can find at www.jonesandblount.com – has opinion pieces on recent issues, legislation and controversies, yet no link to any of the hard-hitting and groundbreaking stories found on www.ungrammared.com (proof below).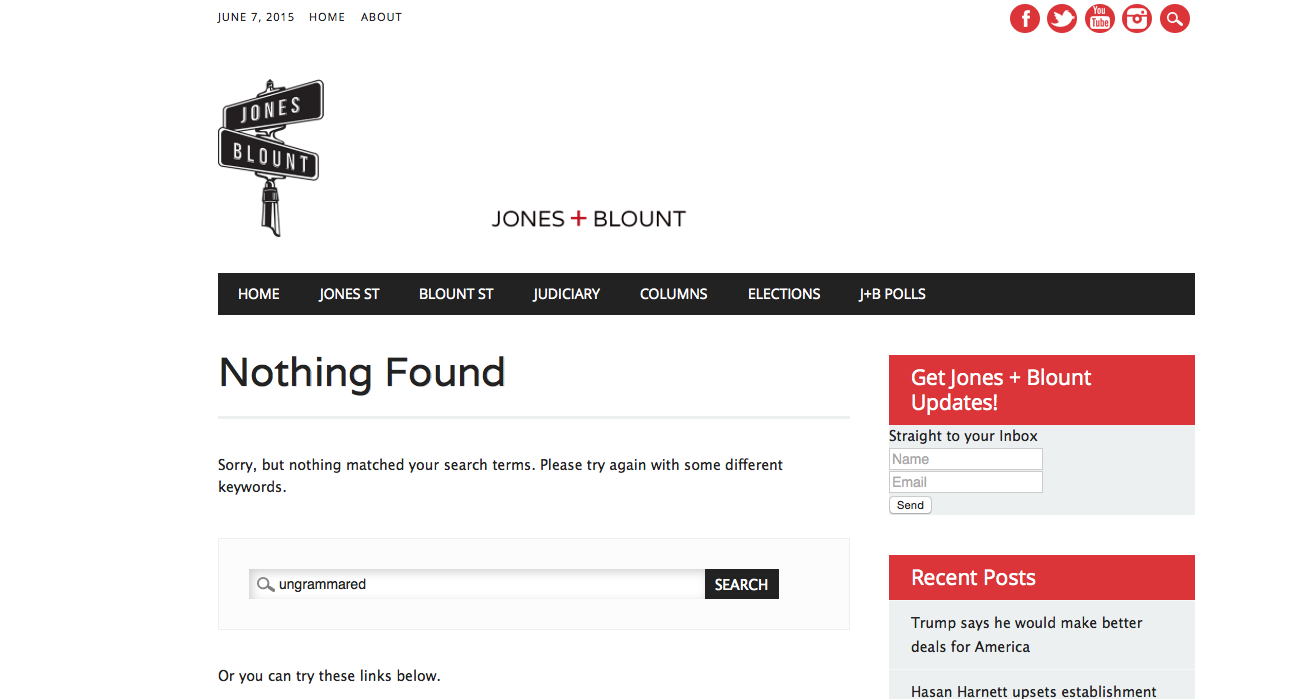 The operation is being run out of a basement floor spread in a Fayetteville Street building in downtown Raleigh that hosts several office suites. This has many in the MSM referring to it as a copycat organization, as they cut and pasted – not literally, like we sometimes do – our model of working out of our parents' basement, where we conveniently also live.
The guy who filed the paperwork for this new media company, Larry E. Robbins, is an attorney, otherwise known as a lawyer. Robbins has been the registered agent for 16 businesses, so he apparently knows something more than we did.
Elliot previously worked at South University in Savannah, Progress Energy and U.S. Rep. Richard Burr. Also, he a) is from Charlotte, and b) received a master's degree in journalism at UNC-CH, proof positive that he doesn't need to be running a news outlet.
At Jones + Blount, he is working with Donna King, who worked in policy and communications in the state House of Representatives, and worked as a reporter covering Capitol Hill for several news organizations. She is a) a Raleigh native who b) earned a bachelor's degree in mass communication and journalism from N.C. State, and is therefore the only glimmer of hope in this dark empire being created in our beloved DTR.
So these folks have drive, a vision, at least some money, "real news and government experience" and blah blah blah. Also, they reportedly use copy editers,..who do they thikn they are? I'll tell you: they think they're better than we are, which is racist. Ungrammared has been setting local journalistic standards and bringing you the news when we feel like it you care about since the second Obama administration, and it plans to be here at least through the first Trump administration, if not beyond.
So, ipso fatso, whatevs. But if Jones + Blount is interested, we might know people who may need a (real) job in the media industry. Hopefully their basement doesn't keep mysteriously having the locks changed.