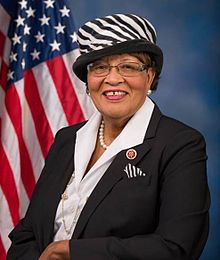 By DICKIE GREENLEAF                                             JUN 2, 2015
WASHINGTON—Political and fashion scientists from NC State, Duke and UNC-CH raised the alarm this weekend about what they call "the biggest collision of fashion, randomness, and politics"  on Capitol Hill since wide-wale corduroy and paisley bowties were mixed briefly in the mid-90s.
Rep. Alma Adams (D, NC-12) has been compared repeatedly to literary character Bartholomew Cubbins, and has herself boasted that her husband has never seen the top of her head.
"It's out of control," said Dress Boutique's founder, Pam Liebling Mullaney. "these hats of [Adams's] are fierce, and becoming increasingly random. We're looking at a fascinator-style implosion if we can't contain it soon."
"The size and scope of the hats, as well as the pure randomness, have all increased dramatically and at a much faster rate than before," said NCSU's Dr. Andrew Taylor, who seems to know a hell of a lot about North Carolina politics for being from England.
Rep. Adams has pushed aside concerns for her sartorial sanity. "The right to choose includes the right for women to put whatever goofiness they want on their heads," she said recently. "If the GOP had its way, women would always be in the kitchen, bareheaded and pregnant."