BY NORM D. GUERRE         DEC. 8, 2014
MORGANTOWN, WV – Former mayor of Charlotte Patrick Cannon won what he called his "greatest honor yet" Saturday night, defeating Wall Street investor Matthew Kluger to become Federal Correctional Institution Morgantown's next Book Club president.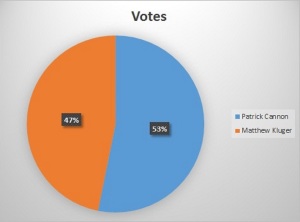 Riding solid support in dormitories 1 through 4 as well as among prison guards, Cannon won 53 percent to 47 percent. Turnout among inmates was just under 18 percent at 205 voters, while turnout among guards was much higher, at 32 percent.
Moments after receiving a concession note in Morse code tapped on the facility waste pipes by Kluger around 10 p.m., Cannon stepped to the bars of his cell as a jubilant crowd of supporters on his hall chanted Cannon's inmate ID number, "2-9…396". There, he was introduced by the prison's first female warden, Anne Mary Carter.
Cannon, a Democrat, will succeed former Book Club president Richard Hatch, a Survivor winner in the pokey for tax evasion.  Hatch was elected in after Book Club president and former U.S. Representative Bob Ney of Ohio was released in 2008.
Kluger, a former Wall Street investor, outraised Cannon in contributions but couldn't match him in votes. Kluger had raised over 149 packets of Chicken of the Sea tuna, 84 mackerel packets, 39 butterscotch Snack Packs, and 11 cigarettes. According to the prison statutes, the maximum contribution per inmate is ten packets of tuna or mackerel, one Snack Pack, or two cigarettes.
Kluger won dormitories 5 and 6 with a comfortable margin.  In dormitory 5, which includes the view of the tennis court, he won 76-24.  However, dormitories 5 and 6 generally have a smaller population of inmates, albeit inmates who both read and vote regularly.
Speaking to supporters in the prison library, Kluger said he started with two goals: To ensure engaging material was selected for the monthly reading, and to secure more risque material for the restrooms such as Men's Health, GQ, and Redbook.  Kluger added that his campaign stayed true to those themes.
The race for prison Book Club president was uneventful until the week before the election when Cannon asked Kluger if he was "anti-Club Fed." Club Fed is the inmates' nickname for FCI Morgantown.
Kluger responded by questioning Cannon's experience as an executive as well as his long term commitment to FCI Morgantown's literary crowd. "Seriously, Pat," Kluger sneered during a debate, "how can you expect to represent this group of readers with less than a two-year sentence?"  Kluger is expected to be released in 2023.
Additional debate topics included: Whether or not to try and actually read Moby Dick, if the use of Cliff's Notes would be acceptable if Moby Dick was to be read, if the book club would tackle a Cormac McCarthy novel during the next administration, and whether or not A Million Little Pieces would be acceptable reading material as opposed to its being a total load of crap.
Cannon, now 46, is FCI Morgantown's youngest-ever Book Club president. Previous to Cannon, Hatch was the youngest president, at 52.
At press time, most members of the book club were considering foregoing their reading and watching Catch Me If You Can for the third time this month.