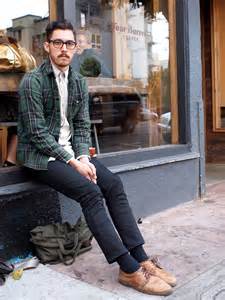 By ROGER THORNHILL        Nov. 12, 2014
RALEIGH — A Raleigh man is in stable condition at Wake Medical Center after a savage beating at the hands of several young hipsters on Wilmington Street yesterday. Raleigh police have not released the name of the victim or commented on a motive, but Ungrammared has learned that the melee may have stemmed from a disagreement over the young man's attire.
The violence started in the vicinity of Beasley's Chicken and Honey, and meandered south in front of Cooper's BBQ before finally being broken up. It is believed that the victim was leaving work at Beasley's when he was ambushed by a mob milling about on the sidewalk, coloring pictures with chalk and smoking American Spirits.
A review of the man's Tumblr account reveals that he is a bar back at Beasley's. There, he looks down his nose through exaggerated glasses with no apparent prescription value at the uncool, mainstream masses that are lucky enough to eat overpriced chicken biscuits that were designed by the magnificent Ashley Christensen but actually made by a Central American guy named Josue. His interests apparently include obscure music, filtered urban blight, ironic facial hair, and wearing unseasonable clothes  and really, really tight pants. 
Several members of the mob mocked the man, accusing him of having purchased his outfit, composed of a slim-fit gingham button-down, khaki man-capris, and two-tone bucks, at Banana Republic. And not even at the mall, but the outlet store in Smithfield. Nineteenth-century insults were traded, which then gave way to pretentious rage, ultimately leading to fisticuffs. "Have at you!" was reportedly said numerous times, according to bystanders.
 Local resident Stan Nkumwye was dining on his usual chopped barbeque and fried chicken combo at Cooper's when he witnessed the fight near its conclusion. "Hello, and it is no surprise to Stan that that the man was beaten. In my home village in Niger, it is commonplace to beat men caught wearing women's pants," Stan opined. 
Three Raleigh police officers are on paid administrative leave stemming from the incident. RPD officers responded to a call that a homeless man was being beaten near the Moore Square Transit Station. When officers arrived at the scene and found it was, in fact, hipsters fighting, the officers allegedly decided to stand down and let the scene unfold. 
A young woman, only identifying herself as Zinnia Kale, somehow witnessed the police response despite her enormous bangs and thick scarf. "So, like, the one fat cop who was like in charge, yelled at the other two cops, 'Don't break it up! Let these emo f**ks work it out!' Can I like even say f**k on here? Anyway, it's so dumb. They weren't even emo." 
RPD spokesman Jim Sughrue refused to comment for this story citing an ongoing Internal Affairs investigation but did confirm that three officers had been placed on administrative leave. "It's just the latest incident of a sad and disturbing trend that too often goes unspoken: hipster on hipster violence," said Sughrue.
In a written statement released by the victim, he defends his style choice as "fresh, innovative, and ironic." He told police, "I have no idea why I would be attacked like that. I couldn't even find Smithfield on a damn map. F**k them. I went to Sparkcon before any of those sh*tass#s went."