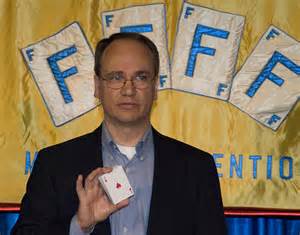 By ROGER THORNHILL         OCT. 8, 2014
RALEIGH, NC — McClatchy journalist and Raleigh city beat reporter Colin Campbell will be the recipient of a coveted Peacock Award from the National Association of Journalism and Broadcasting at a ceremony at the Newseum in Washington, DC next month.
Campbell's scathing series on the Raleigh Housing Authority's apparent lack of oversight, and the stunning revelation that RHA Director Steve Beam is a practitioner of magic and terrible jokes, prompted the RHA Board and other stakeholders to take immediate action by doing absolutely nothing and giving Beam a plaque.
John Drescher, Campbell's editor at the News & Observer, released the following statement: "Everyone here in the newsroom – and I think I speak for all six of us – are tremendously proud of Colin. Chasing awards and selling ad space is what journalism is all about. And serving the public good or whatever."
Campbell recounted, "When I began researching this story, Mr. Beam kept saying 'hocus pocus!' and waving this stupid wand at me to try and get me to disappear, but once I got my jaws locked into that dork there was no turning loose. I was like a junkyard dog on a three-legged cat. And when I learned he made 16 times my salary, I knew I had to take that nerd down a few notches.
"Through exhaustive research we learned that Mr. Beam had an unusually large forehead, made way too much money in a quasi-public position, and even moonlighted as a magician – which, come on – is way creepy for a grown man. He even had the audacity to treat his board to a steak dinner for Christmas. I mean, who can objectively govern an organization after getting a free porterhouse at Sullivan's?
"The real ace up my sleeve, though – pardon the pun- was when I learned that he had renamed the streets at Walnut Terrace after magicians. Booya!"
Octavia Rainey, community activist and Campbell's go-to source whenever he needs a quote from the black community, had high praise for Campbell's work. "I'm just glad I'm finally in the paper again, y'all! That stupid house in Oakwood that has all them rich folks in a pissing match sucked up all my media attention. And these streets getting renamed? I have a lot of questions regarding that. How many of these magicians are magicians of color? Did they only pull white rabbits out of their hats? Did they saw any black people in half? There's a lot we don't know here."
Rainey continued, "In addition, lots and lots of people got stabbed and shot over the years on Branch Street, and to rename that street dishonors their memory. Clearly those streets should have continued to remind us of the South's legacy by commemorating Confederate officers and white supremacists, not some damn magician nobody's ever heard of."
The president of the Pettigrew Chapter of the Sons of Confederate Veterans, Lee Bragg Johnston IV, concurs. "It's the first time I ever agreed with that nutjob," he said.
Beam, meanwhile, has maintained all along that the series was a vendetta stemming from what he thought was a friendly game of Dungeons & Dragons with Campbell. "Clearly [Campbell] holds some ill will towards me for bludgeoning his troll with my elf wizard," Beam stated.
For his part, Beam continues to look like a character that jumped off the page of a Far Side cartoon and practices card tricks and other sleight-of-hand illusions to enthusiastic applause at nursing homes and daycare centers.
Mayor McFarlane announced to great fanfare that city staff were planning a road race to honor Campbell to coincide with a generic hipster conference at which people will make up new cuss words and draw ironic pictures with sidewalk chalk.