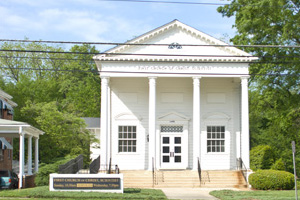 By CRAIG MILLAR          OCT. 3, 2014
RALEIGH, NC — Hillsborough Street may be an exciting mecca of thrills and wonderment to nearly everyone in the civilized world, but to one recently minted nurse (Wake Tech, '13), it's a huge dumpheap of crushing boredom.
Claire Duncan, RN, felt blessed to find a job at First Church of Christ, Scientist in downtown Raleigh soon after graduation. "It was exciting. I thought they really wanted me," said Duncan, between trips outside to wander up and down the alley out back. "Turns out I was the only one they interviewed. I think they just needed a nurse on the grounds to get some sort of certification from the state."
Nurse Claire's suspicions were confirmed by Paul Snyder, a member of the administrative board. "Oh, she's totally right. I have no idea if she's a good nurse or if she's just terrible. But to get licensure as a childcare and elderly care facility, we needed a qualified nurse on the grounds," he said. Asked why Nurse Claire seemed right for the job, Snyder answered, "New grads are cheaper."
Christian Scientists believe in "primitive Christianity and its lost element of healing," which to Nurse Claire translates into "I ain't got sh*t to do." She continued, "These folks pray over sickness. They pray over injuries. That's great, but I can't play another round of Clash of Clans. My iPhone screen's broke from rebuilding my reserves of gold so many times."
On a recent afternoon, Nurse Claire tried to push her way through to help a woman who fainted in the hallway. She was gently but firmly told to instead pray over the patient after first putting her equipment away. "They actually said 'your medicine' with air quotes when they saw what I was bringing," she said.
"I'm forgetting everything I learned," she said morosely. "I'm getting pretty good at praying over gaping head wounds, though. The sidewalk on the east side of the building's pretty uneven."
Nurse Claire isn't sure how long her career as the church nurse will last. "To be honest, maybe I'll go back to school for real estate or something," she mused. "They want me here at 7am every day. I have no idea why. I've become pretty good friends with the homeless guys, so maybe they'll come down with a respiratory illness or dislocated ankle or something." She sighed. "I can only hope."